Bedroom Inspiration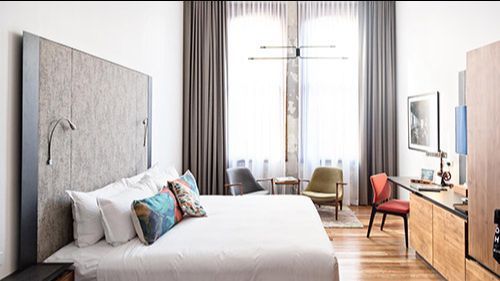 A bedroom is a lot of things, a recovery station, a sanctuary, a den of regret where you eat ice cream from the tub and binge watch Netflix (or maybe that's just me 🤔). However you use your bedroom, you'll spend a third of your life in it, so it doesn't hurt to spruce it up a little and make it a beautiful and inviting space.
Here at Watson Blinds we don't just manufacture and sell blinds and curtains, we also have an in-house team of expert style consultants that can help you create the perfect look and feel for your bedroom or any other space.
Here's a list of some of the hottest bedroom trends right now, straight from our style consultants to you! 🙌🏻😊
Pro Tip 1 — Use muted, moody tones if you're going for a minimalist look and feel
The Minimalist Bedroom
Minimalist interior design is focused on a "less is more" philosophy. You can use muted, moody tones to create a minimalist and simple feel that's perfect for bedrooms. Blue-grey tones and light shades can be combined to create a welcoming space that also has a minimalist feel. Here we've paired simple but classic lined curtains with a decorative rod, to add a touch of luxury to this minimalist-themed bedroom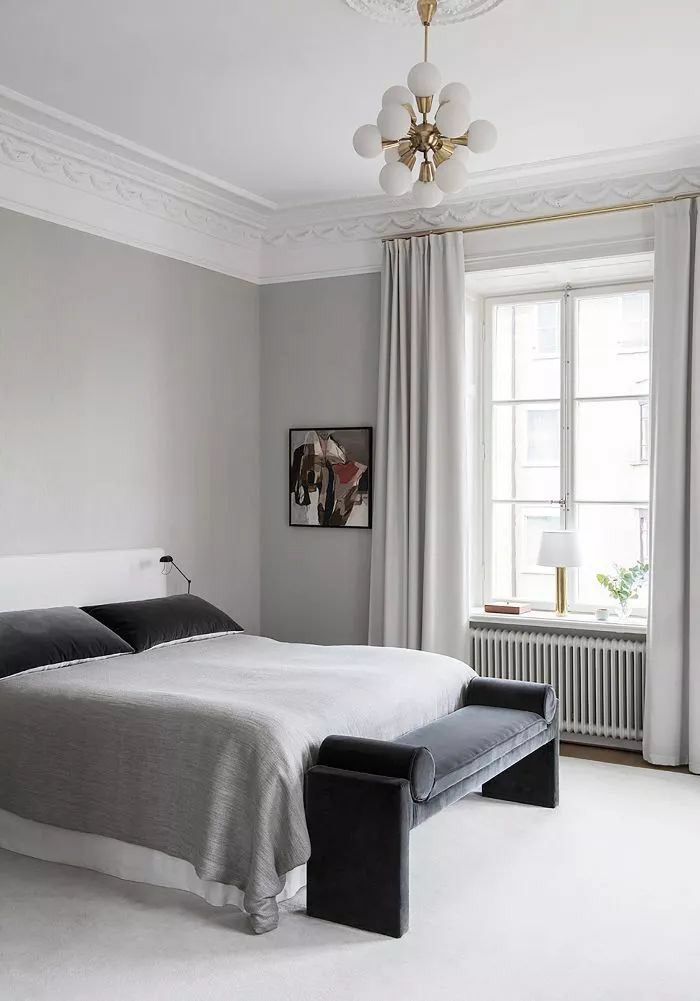 Pro Tip 2 — Offset thick, luxury curtains with delicate sheers for a boutique feel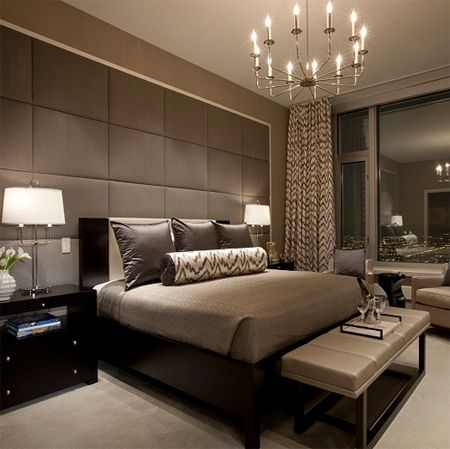 The Boutique Bedroom
Contemporary boutique hotels are leading the way when it comes to creating boutique bedrooms that feel inviting but sophisticated. The best boutique bedrooms feature floor to ceiling curtains in heavy, sumptuous fabrics offset by delicate underlying sheer curtains. Here we've gone for a curtain from the Warwick Zepel collection in the resplendent Fauvism pattern with finespun Zephyr sheer curtains.
Pro Tip 3 — For a "Scandinavian" bedroom, pair stone tones with washed wood furniture
The Scandinavian Bedroom
Simplicity and nature the key to successful Scandinavian (or "Scandi") styling, with neutral shades combined with washed wood tones and handcrafted furnishings. Choose curtains or blinds that use simple grey or stone tones with subtle detail to add depth to your bedroom theme. These Basalt Rhythm Curtains by James Dunlop with blockout Roman blinds are an excellent example of how the right window furnishings can pull the look together.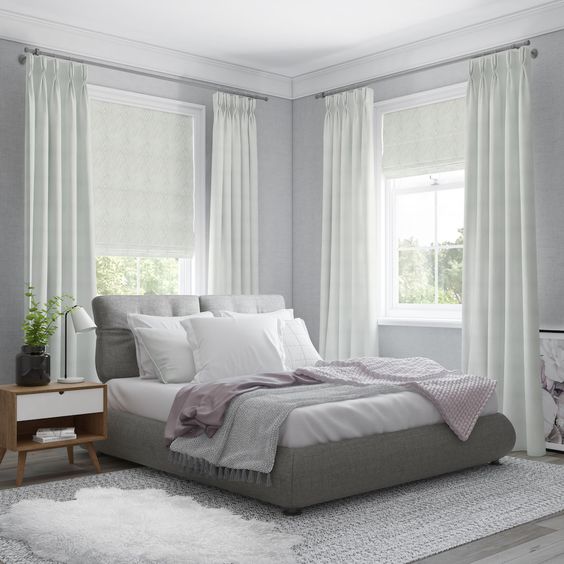 Pro Tip 4 — A luxury look bedroom is all about the shimmer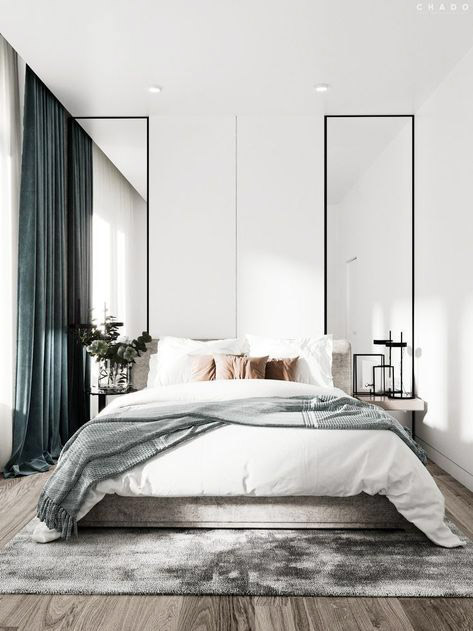 The Contemporary Lux Bedroom
The contemporary lux style pairs understated opulence with contemporary minimalism. To create a touch of luxury in a relaxed bedroom setting, add soft free-flowing fabric with lux shimmer detailing. For this stylish bedroom, we've paired curtains from the Warwick Utopia collection with sparkling silver sheer curtains to create an ultra-lux but minimalist feel.
Pro Tip 5 — Combine rich colours and soft textures for a contemporary looking bedroom
The Rustic Contemporary Bedroom
The rustic contemporary style pairs rich colours with soft textures, often accompanied by wood furniture to create a warm and welcoming space. Here we pair bright floor to ceiling blockout curtains from Warwick with feather-soft underlying Astra Flax sheers.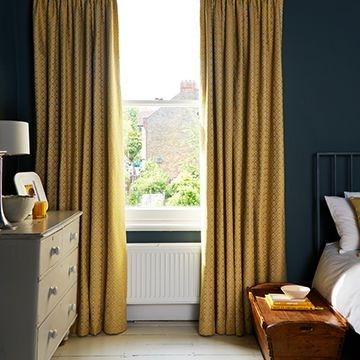 Pro Tip 6 — The charismatic modern interior style is all about unexpected but confident contrasts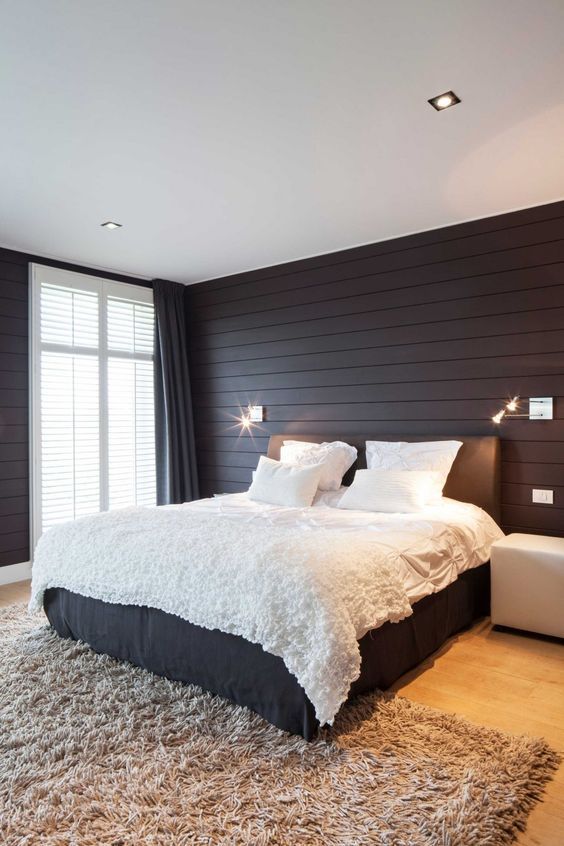 The Charismatic, Modern Bedroom
2019 in interior design is all about contrasts and part of the allure of the contemporary modern style is it's powerful and confident look as it blends unexpected styles. This bedroom seamlessly combines a modern deco dark wood feature wall and geometric styling with a rustic lambskin coverlet and shag rug. Chic James Dunlop blockout curtains with white plantation shutters complete the contrast.
If you'd like to discuss bedroom styling ideas further with a design consultant, you can book a meeting below with one of our specialists.