When It Comes To Outdoor Blinds, The Alpha SRS Awning Leads The Pack
It's Time To Enjoy Your Outdoor Entertaining Areas The Way You Deserve To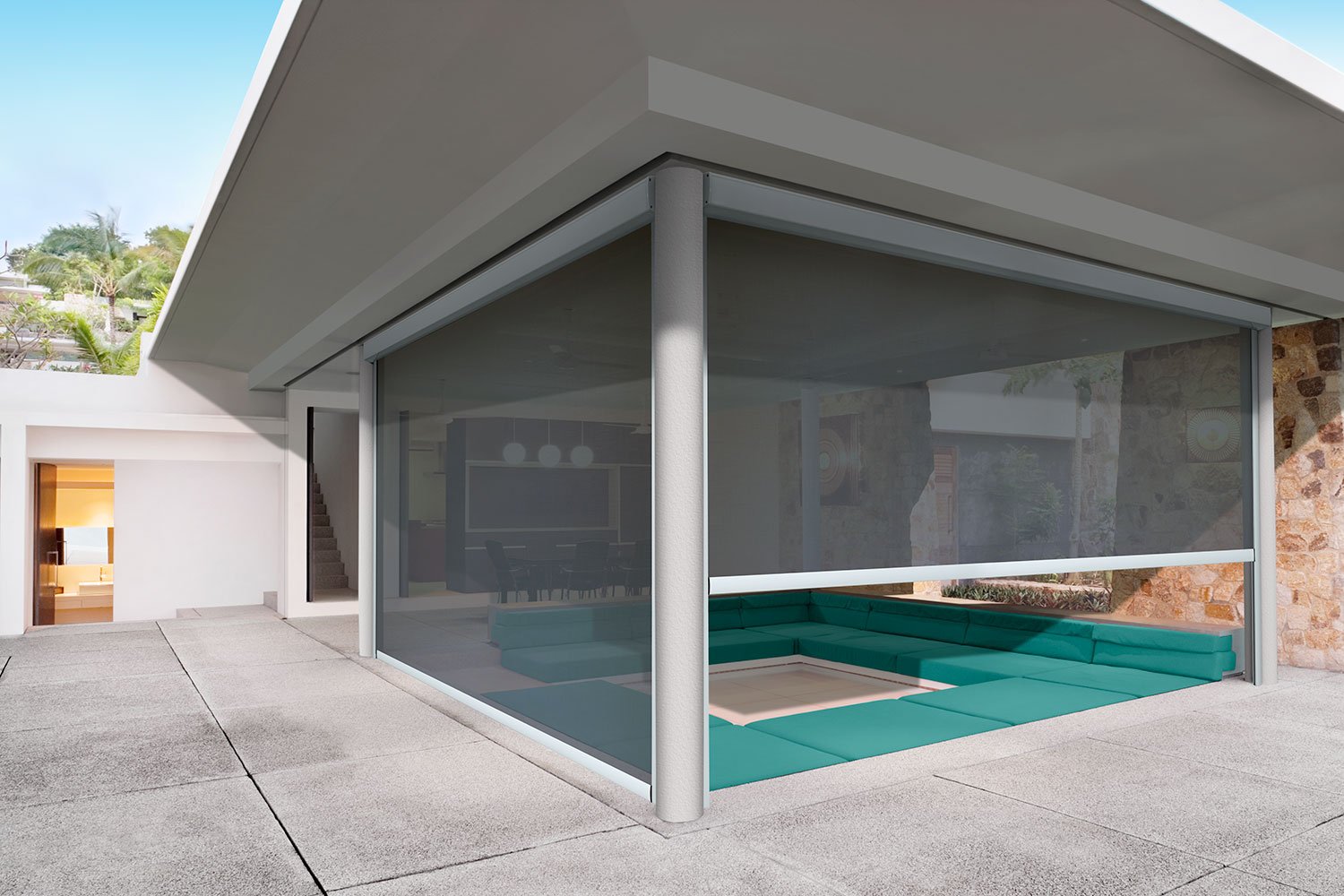 The Alpha SRS - optimum weather protection meets sleek, compact style.
Ensure your family's comfort while putting a dent in your energy bills. Why wait?
OBLIGATION FREE MEASURE & QUOTE

Made in Australia

Up To 5 Year Quality Guarantee

100% Child Safe
Reduce Your Energy Bills By 30%
Take Full Control Of Your Outdoor Spaces With An Alpha SRS Awning
Don't let your deck, backyard, or patio go to waste.
Alpha SRS Awning
We all love the Aussie weather. But let's be honest – sometimes it can be a bit extreme.
When it's stinking hot in summer or blowing a gale in the winter, it can be hard to relax in your outdoor spaces the way you deserve to.
Maybe you've thought about installing outdoor blinds before. The process can be overwhelming – there are tons of options out there, and sometimes it's hard to find a solution to fit your individual space.
Don't worry – the Alpha SRS Awning is here to take the guesswork out of outdoor weather protection and ensure that your living areas are ready for anything.
The Alpha SRS has a unique 'Side Retention System' that keeps the fabric taut using a floating channel. Some textile awnings suffer from billowing or rippling under extreme weather conditions – not the Alpha. Its special two-piece structure means that the fabric can move slightly while sitting within the sides of the awning frame, even as it is buffeted by strong winds.
For you, this means total confidence in your outdoor awning. No nail biting in stormy weather, no repeated callouts or service fees. You get the best of both worlds – increased privacy and lasting weather protection all at once.
If you're looking to completely transform your outdoor entertaining areas while improving your family's comfort, the Alpha SRS is the ideal solution.
Often, people feel like they have to put a freeze on outdoor entertaining throughout the colder months. That's just not true! With an Alpha SRS, you'll have a durable buffer to protect you from strong winds while preventing rain from washing out your space. In the summertime, the UV-resistant fabric will allow you to enjoy breezy, relaxing catch ups with family and friends. No sweltering heat, no glare, and no pesky insects.
Plus – your bank account will thank you! The Alpha SRS doesn't just keep you and your family comfortable. About half of all unwanted heat in the home comes through exposed windows, especially those that face east and west. By improving circulation and regulating the amount of hot and cold air that enters your home, you'll see a sizable reduction in your energy bills. Who doesn't love that?
Other textile awning systems are crank operated, requiring the fabric to be wound up and down manually. It's an irritating and time-consuming process that the Alpha SRS does away with completely. With the help of its state-of-the-art Alpha Light Lift technology, you can raise or lower the awning simply by lifting the bottom rail. This sleek, streamlined operation sets the Alpha SRS apart from its competitors.
The benefits aren't just practical. The Alpha SRS has an appealingly minimal design, with no bulky fixings or headrails. It's got a streamlined look that helps it blend into the existing structure of your outdoor area – providing sleek visual appeal and adding real property value to your space. We've got an extensive array of fabrics to choose from, so you're sure to find a combination that matches both your taste and your home's existing facade.
With a maximum potential width of five metres and a drop of four, the Alpha SRS can be custom-made to fit almost any space and essentially allows you to add an extra room to your home. It's perfect for enclosing a courtyard, patio, or balcony, and it's locally-made components are specially engineered with Aussie weather conditions in mind. It's a fantastic investment that will bring real quality of life improvements for you and your family.
If you'd like to see how the Alpha SRS would look in your outdoor spaces, we offer free home consultations to step you through the process. Don't stress if you've got concerns – we want to hear them! There's a solution for everyone, and we're here to help you find it. Book an appointment through the link below, and we'll take $200 off the price of the Alpha SRS or any other outdoor blinds that catch your eye:
It's not worth letting your outdoor entertainment areas go to waste. Grab your free voucher and let us help you turn your patio or deck into a gorgeous space you can enjoy year round!
Find Your Inspiration
Feeling Inspired By What You Have Seen?
Request an appointment and browse our range of colours and styles from the comfort of your home.

YOUR APPOINTMENT
In-Home Expertise You Can Trust
Our customer consultants have a wealth of experience and will guide you along the way to creating the home you love. Take the first step and request an appointment with a local adviser.
Brochure Request
Please enter your details below so we can make sure you receive our brochure download link.
*We take safeguarding your details seriously.