Motorised Blinds. For Smarter, Smoother Shade.
Set the mood with the touch of a button.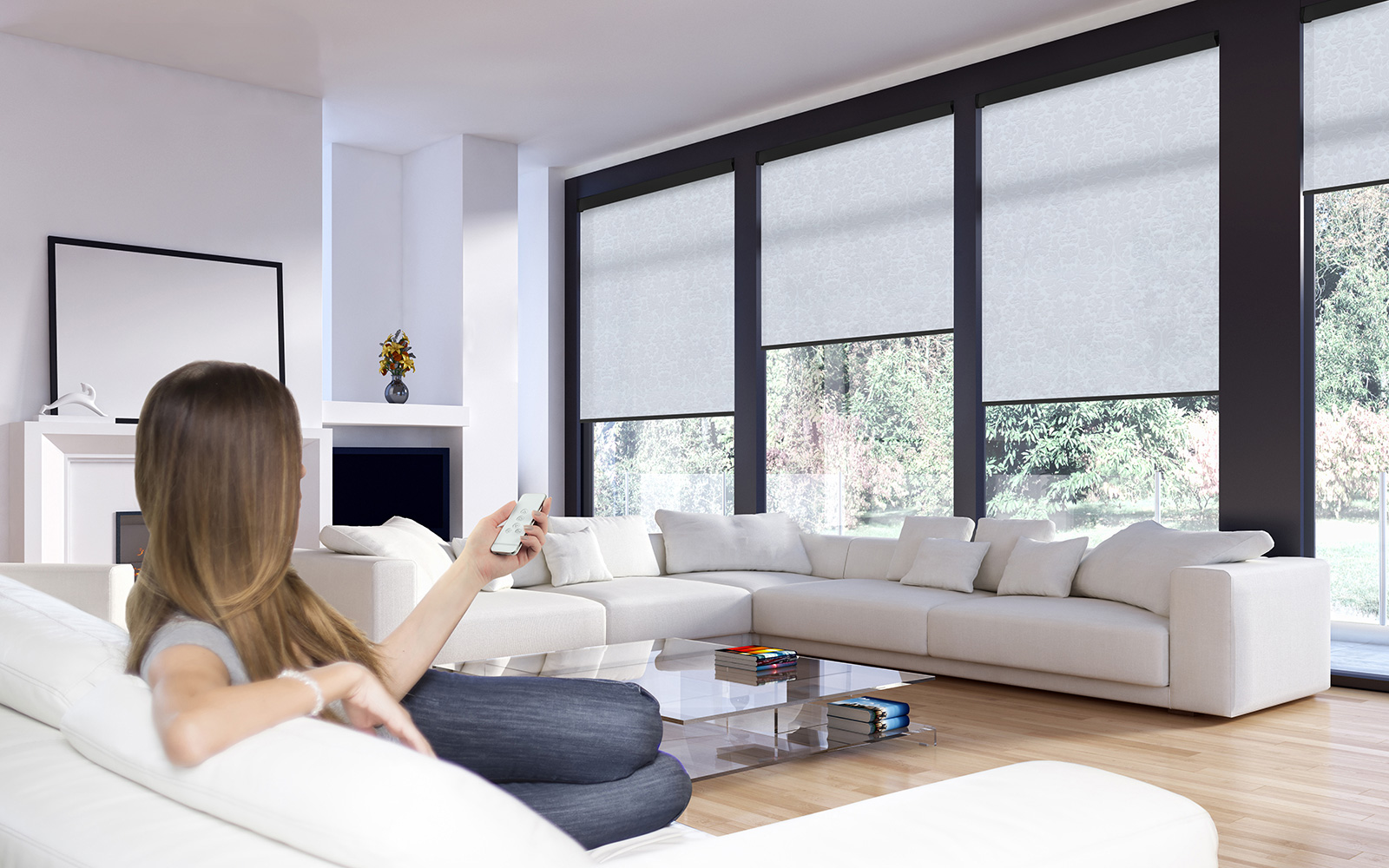 Manufactured In Canberra

Up To 5 Year Quality Guarantee

100% Child Safe

Full Light and View Control
Easy To Use, Easier To Love.
The class and simplicity of motorised blinds & awnings is unmatched. It's the way of the future, and it's now available in your home.
We've all been there. You're sitting on the couch trying to relax, but there's an annoying streak of glare on the TV. No matter how you angle your head, you can't get rid of it. So you get up and walk over to the window to lower the blind. 
Except you can't do it straight away. First you have to struggle with a clunky cord or chain mechanism. There's never just one cord, always a couple, so it takes a few tries. Ever noticed that you never manage to pull the right cord on your first try? Eventually you lower the blind and head back to the couch. But the glare persists – the blind isn't at the right angle. So you get up again…
If that's the way that you currently use your blinds and curtains, you'll be happy to know that it doesn't have to be. 
Motorised Blinds let you enjoy complete control over your window furnishings. With the help of a remote that fits in the palm of your hand, you can make them glide open, slide shut, or stop at the precise point of your choosing – all at the touch of a button. 
Sound good? With a Motorised Blinds system, it's possible. 
Simply put, motorised window furnishings are the ultimate in contemporary living. No more struggling with cords and chains, no more safety concerns, no more unsightly operation mechanisms – Motorised Blinds give you streamlined visual appeal and a safer home environment for your family. 
The level of flexibility offered by Motorised Blinds is unparalleled. Raise a single roller blind, or lower all of them at once – it's up to you. With your trusty remote control, you have the power to decide exactly how much light and privacy you want at any given time – and you can make adjustments no matter where you are in your home. 
We've got an extensive range of motorised options to choose from, to suit both domestic and commercial applications. For instance, you can link your window furnishings to a home automation system like Smart Home Control, allowing you to control your blinds, heating, air conditioner, and lighting with a single remote. In larger residential applications, we can integrate motorisation within full-scale building management systems. The only limit is your imagination!
It doesn't stop there – motorisation is available for outdoor products too. Whether you want contactless operation for those hard-to-reach areas or are simply sick of dealing with cords and chains – trust us, we get it – Motorised Blinds are sure to make your life easier and help your home stand out. 
To see how we can help bring motorisation to your home, book a free consultation with one of our expert consultants below. 
Find Your Inspiration
Feeling Inspired By What You Have Seen?
Request an appointment and browse our range of colours and styles from the comfort of your home.

YOUR APPOINTMENT
In-Home Expertise You Can Trust
Our customer consultants have a wealth of experience and will guide you along the way to creating the home you love. Take the first step and request an appointment with a local adviser.
Brochure Request
Please enter your details below so we can make sure you receive our brochure download link.
*We take safeguarding your details seriously.